Trail Races to Push You in 2020
Location: Lake Tahoe, CA
Date: September 13, 2020
Distance: 7.5 miles
You'll feel like you're running right over Lake Tahoe on this point-to-point course that takes you around stunning Emerald Bay and up the Rubicon Trail to D.L. Bliss Sate Park. The epic views of the High Sierras aren't bad either. With low-to-moderate climbing, this course is considered fast. And once you cross the finish line at Lester Beach, cool off with a icy dip in the lake.


Location: San Diego, CA
Date: January 18, 2020
The San Diego 50 Mile & Trail Marathon course will feature the beautiful trails of the San Dieguito River Park. The course is a mix of double track, single track, fire road and a very small amount of paved running.
4. 7 Sisters Trail Race
Best for: Mountain Lovers
Location: Amherst, MA
Date: Early May 2020
Distance: 12 miles
When you think of epic trail running, you might not think of Western Mass but the 7 Sisters Trail Race will change your mind. This 12-mile out-and-back race on technical, single-track trails winds along the ridge of the Mt. Holyoke Range. Including 3,500 feet of elevation gain, it's considered the hardest trail race in the Northeast. If that doesn't move you: Proceeds from the race benefit the Friends of the Mt. Holyoke Range.


5. Ice Age Trail 50 Endurance Runs
Location: La Grange, WI
Date: May 2020
Distances: Half-marathon, 50K and 50 miles
If you thought the only way to travel back to the Ice Age was at the movie theatre, think again. The Ice Age Trail 50 Endurance Runs take you back in time through landscape shaped by glaciers when they retreated from Wisconsin more than 10,000 years ago. You'll run on cross-country ski and single-track trails along the Ice Age National Scenic Trail and through the diverse, primal landscape of the Kettle Moraine Forest. The 50-miler is one of the oldest, continuously run ultras in the U.S.

6. Quest for the Crest

Location: Burnsville, NC
Date: May 2020
Distances: 50K, 10K and Straight Up Kilometer
Imagine climbing from the valley floor to the top of the Black Mountain Crest Trail in Mount Mitchell State Park three separate times on technical, single-track trails. (For those keeping track at home that's 11,300 feet up and 11,700 feet down for a total of 23,000 feet of elevation change.) Add in North Carolina heat and humidity (and sometimes frost) and it's no wonder Quest for the Crest is dubbed the "Hardest 50K in the World." If the whole crew isn't game, race weekend also include both a 10K and a Straight Up Kilometer race.
Registration fee: To be announced
7. The Dipsea Race

Location: Marin County, CA
Date: June 2020
Distance: 7.4 miles
The oldest trail race in America started thanks to a bet. In 1905, members of San Francisco's Olympic Club wagered to see who could get from Mill Valley to the newly opened Dipsea Inn in Stinson Beach first. Since then, the race has maintained its quirky character including a handicapping system, which provides runners with a headstart based on age and gender, and a less than conventional entry process with slots allotted based on previous finishes, mail-in applications, a silent auction, bribes and convincing sob stories. The 7.4-mile course is no joke, though. You'll travel up and down roads, hit trails through Muir Woods and scale three flights of stairs as you make your way to the beach.


8. Loon Mountain Race

Location: Loon Mountain, Lincoln, NH
Date: July 2020
Distance: 6.6 miles
This isn't an ordinary trail race. It's straight up Loon Mountain to the Summit Lodge at the top of the ski resort's gondola. You'll gain 2,200-plus vertical feet over a 6.6-mile course, which has been the site of the USATF Mountain Running Championships. While the average grade along the course is 10 percent, by far the hardest part is the ascent up the black diamond trail Upper Walking Boss — a staggering 40 percent incline!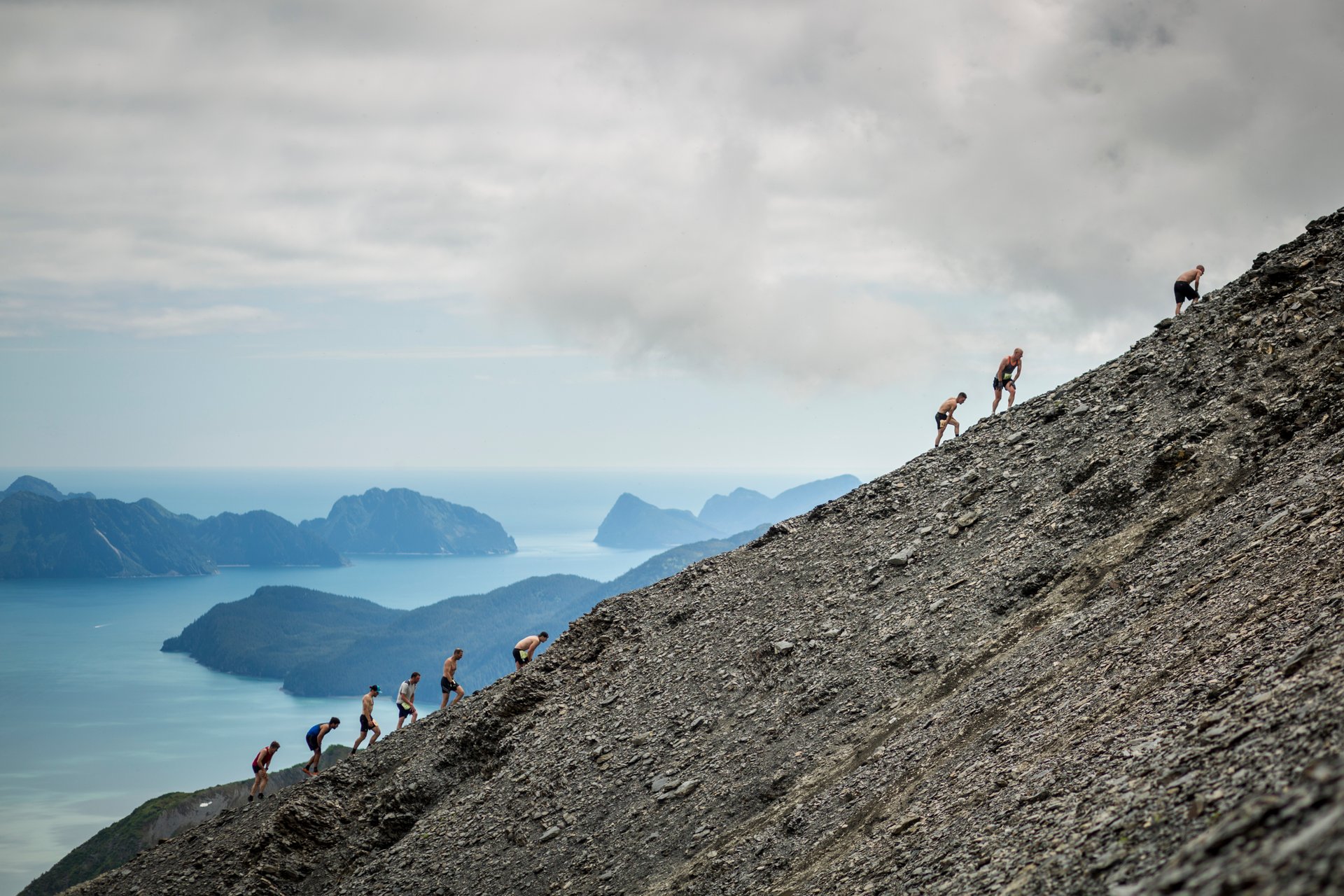 Location: Seward, AK
Date: July 4, 2020
Distance: 3.1-3.5 miles (depending on route)
Three plus miles doesn't sound so bad for a trail race, right? Except when you gain 3,000 feet in elevation while scrambling up cliffs, mud and shale and then back down again. The average slope of the course is 34 degrees and the steepest section is 60 degrees. The race takes place every 4th of July weekend and registration opens January 1, 2017. First-time racers must complete the entire course prior to race day before you can pick up bib.


10. TransRockies Run
Location: Buena Vista to Beaver Creek, CO
Date: August 2020
Distance: 120 miles
Over the course of six days, two-person teams will cover 120 miles from Buena Vista to Beaver Creek along Colorado's stunning trails. You'll run through the White River and San Isabel National Forests on a mix of single track and forest roads and gain nearly 20,000 feet of elevation. And at the end of each stage, you'll be welcomed to a tent city with hot meals and showers. There's an option to run the race over three days and both races can be run solo.


11. The Rut
Location: Big Sky, MT
Dates: September 2020
Distances: 50K, 28K, 11K and Vertical K
If you're looking for an epic (and unabashedly brutal) race, The Rut's for you. The extremely technical terrain, which showcases the best of Montana's rugged mountains, isn't for the faint of heart — which is why it attracts some of the world's best trail runners. At times, it will feel like you're dancing (or slip sliding) over loose rocks above the tree line on the 28K and 50K courses, while the 11K travels along lower- and mid-mountain single track trails.


12. Golden Leaf Half Marathon
Location: Aspen, CO
Date: September 2020
Distance: Half-marathon
Running through the golden aspen forests and meadows at the height of fall foliage season make this one of the most popular and scenic trail races. (The 2016 race is already sold out.) Starting in Snowmass Village, the single-track trails traverse the mountains on its way to Aspen. Over 13.1 miles, you'll gain 980 feet and lose 1,712 feet.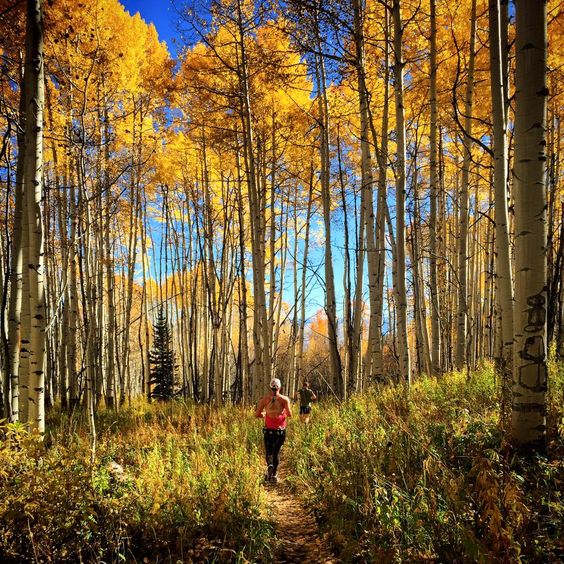 ---